Use Virtual to Your Advantage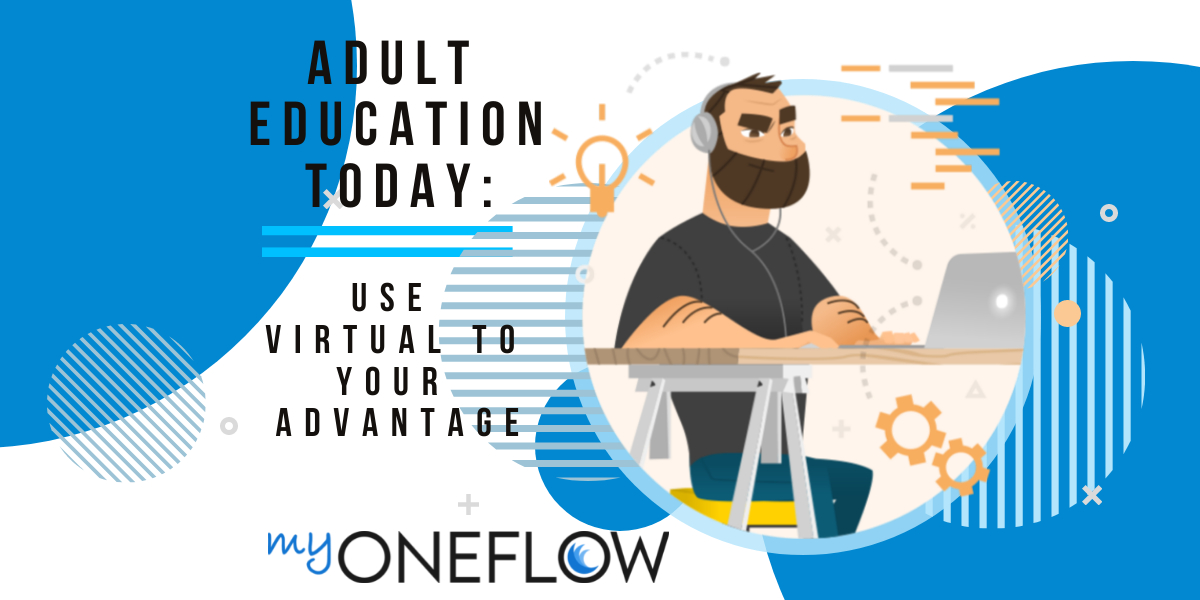 Because of how the world is shifting today, you might be thinking, "What's the best way to modify my whole program and all the processes with it, to all run seamlessly online, virtually, and to have real-time, live access in the palms of my hands?" This might be even more important in the case of Adult Education and the programs that have run in the past, traditionally, with in-person registrations, trainings, courses, and all other physical aspects. In 2016, the National Center of Education Statistics showed forty-three percent of adults participated in any type of Adult Education program. That's approximately 76 million adults.
Well, in today's world, that number has skyrocketed. Especially with technology and other variables evolving, aspects such as the workplace environment have been dramatically affected. However, the opportunities in areas, such as the availability and accessibility factors of these Adult Education programs, can be seen as advantages to program directors.
VIRTUALLY REACHED
Due to Covid-19, Adult Education programs have seen that you can adopt virtual and online practices into each step and process of your program and bring the resources to the recipients themselves. By doing this, your program hasn't been "put on pause" because of the impact of coronavirus and whether it's "safe" for large, in-person interactions. By going virtual, you're able to reach more people, people who might have not been willing in the first place to participate in a program but will now since they can access it all from the comfort of their own home and flexibility around their personal schedule.
VIRTUALLY ORGANIZED
Not only can you reach more people virtually, but by having a fully virtual program, all documents and other essential files for each applicant are all organized and saved under each profile. This makes it easily accessible by the program director or any other staff member to view at any point in time. These analytics are critical for program directors, and the technology in the past has hindered the ability to easily track students' progress. With myOneFlow, program directors have the capability to report tracking on students' progress of the program at any time, to ensure each milestone and task completion.
VIRTUALLY TAUGHT
Adult Education programs provide essential and critical resources to the community to help their efforts and motivation to continue their education and gain relevant knowledge in the relevant workplace today. People may not have previously acquired these skills in earlier education, and because of the lack of knowledge, it can hinder them from applying to current jobs they may be seeking.
By going virtual, this not only will help provide the tools needed to help people gain the new knowledge and experience one needs to apply for a certain job, but can also help run programs easier, providing any-point-in-time reporting and metrics that may not have been available to you in the past, all in the matter of seconds!
MYONEFLOW: THE ULTIMATE VIRTUAL MANAGEMENT TOOL
Even though traditional methods may still be used in current programs, Adult Education programs specifically can see an advantage to switching to virtual, as all the possibilities are endless from there.
Whether it is providing that second chance to those in society who have lost access to education, or to help adults continue education to maintain certifications, fulfill job requirements and stay up-to-date on new developments in their field, myOneFlow brings all these pieces together in the puzzle. Making this process easier and accessible from anywhere, myOneFlow can help manage your program and make it more efficient, with real-time results.
By using this next generation case management solution, it will provide you a complete overview of your applicants, registrants, and students and show their progress during each step of the way, making reporting easier than ever!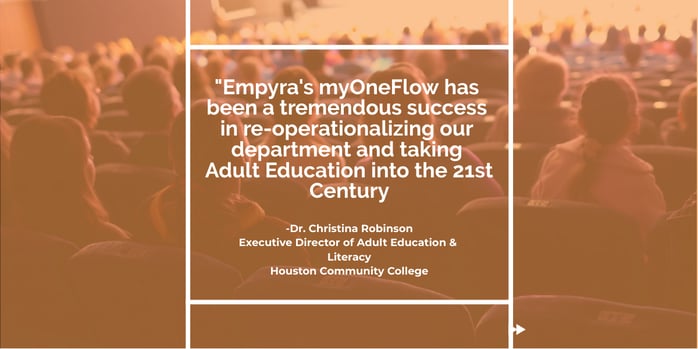 Diana Akabekjan